The day after I visited Chichen Itzá I visited the Mayan ruins Ek Balam. At Ek Balam it's still allowed to climb the pyramids, which I thought would be exciting, of course, even though I'm as clumsy as can be. Exciting to see if I could manage to get away with not falling down, or would I become that tourist that finally forces the Mexican government to shut down Ek Balam too?
I stayed in Valladolid for a few days, and I took a car from there to Ek Balam. Valladolid is a sleepy little town with a lot of abandoned shabby streets, but also quite a few beautiful views.
I shared a taxi from/to Valladolid with 2 young girls from the Netherlands. It wasn't raining people who wanted to go back and forth between Valladolid and Ek Balam, so I was lucky. Most people arrived with a tour from larger places – like Cancún, or with their own cars, where the car part seemed to be the norm.
Of course I arrived at Ek Balam early in the morning, just after opening. What I don't go through to avoid people?
When I was climbing the Acropolis I was all alone.
I had some silent minutes by myself… magical…
Acropolis is the tallest building in Ek Balam and standing there gazing out over the whole area – it was breathtaking! I almost didn't see a single head. The black dogs I had met while walking up to the ruins showed up, though. One of them walked up to the stairs to Acropolis, looked up at me – and started barking! Like he wanted to tell me something.
Or, he was just pissed because I was standing there looking down on him…
I don't know what he had in mind and soon a woman showed up – with enough courage to climb Acropolis, so he gave up and walked away.
Another breathtaking thing was me trying to get down from the Acropolis – such tiny narrow steps and just thinking about how clumsy I can be – at any time I could've taken a tumble, falling straight to the ground, probably stone dead when I finally reached the ground…
Compared to Chichen Itzá then Ek Balam is small, which means that 25 people will make this place feel pretty crowded. 2,500 people on the enormous Chichen Itzá area is hardly noticeable. Chichen Itzá is so huge, so when I heard people happily skipping it, because they felt it was "too touristy", I felt confused.
But and so whatever, we are all different and we all travel differently, and we all want different things in life.
Who am I to judge other people according to my own premises? 😉
So what type of ruins are there at Ek Balam?
No matter how hard I wanted to give you an answer to that question my info is limited. The ruins at Ek Balam were inhabited between the period which is called "Middle Preclassic" (1000-400 BC) up to the period "Postclassic" (900-1697). Most of the ruins we see today are from the "Postclassic" period.
Ek Balam means "black jaguar" in Mayan language.
Ek Balam got its name from the legend of the city's first leader. He was called "Ek Balam". I thought I would find a lot of cute black little "kittens" around… That jaguars roaming the woods was the reason it was called Ek Balam. Well, I guess we all get disappointed sometimes! There were "only" black dogs here!
The digs started in 1997, but the truth is they don't know that much about Ek Balam yet.
What did I think? I thought this place was magical of course.
I don't believe there are ruins I don't find magical… If there are, at least I haven't found them… 😛
The only thing making me sad is that in many places in Mexico you're not allowed to touch the ruins. Sure, they allow climbing at Ek Balam, and I had the chance to touch these wonders and really feel the magic flowing within, and the pulsating energy.
In larger places like Chichen Itzá, you have to admire from a distance, even if I managed to steal a touch here and there…
I understand why – of course I do – but I still feel saddened by it.
Apart from us tourists breaking everything we touch, it's a horrible tear when so many people are walking on them on a daily basis. They're torn down, withering away…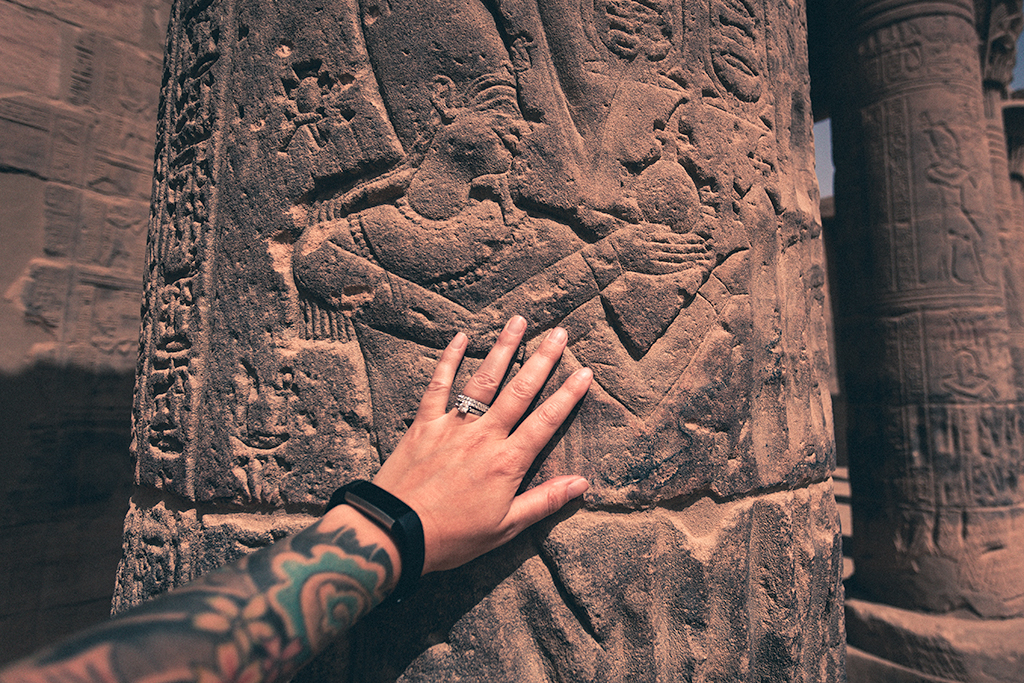 It was such a magical feeling standing in Aswan, putting my hand on one of the columns in the temple of Isis, knowing it had been there for thousands of years (or well, not really there there, since it had been moved from the island of Philae to the current place Agilkia, but still…). All that these rocks had seen – I can't even begin to describe this feeling.
And THAT I would've wanted to feel here too…
What do you say? Are you like me and want to feel the energy in these magical places? Please leave a comment!