French Quarter… yes… A visit in New Orleans – or NOLA as it's called – is not complete without a visit in the French Quarter. That's just the way it is. The end. For all of you out there, who are, like I am, crazy about The Originals – yes, you know what I'm talking about when I say the French Quarter. For the rest of you – the French Quarter is the oldest neighbourhood in New Orleans and today it's basically the centre, it's where it all goes down.
What? What goes down? EVERYTHING!
When I first landed at the airport I tried to get a bus to the city. They would only take me to a hotel, no Airbnb, oh no. I asked the lady as nicely as I could to please pick a hotel for me in the French Quarter – any hotel. She snorted, shrugged her shoulders, but managed to come up with a name, then looked at me to see if I would object. I didn't. I nodded in contentment. Probably great. I had no idea whatsoever!
Full confession here – in the US most people I got in contact with are extremely service-minded and pleasant. They really understand what service is all about! Top-notch! And then you get to their airports (no matter which one – any random airport in the US) and they are unpleasant as it gets! It's almost as if they were paid to scare the frack out of people…
But that's a completely different story…
I came to the French Quarter every day during the 2 weeks I spent in New Orleans. More or less. I love the vibe in the French Quarter – perfect. It's so touristic though, and you can't forget (I promise you, you won't even if you try to!) that Bourbon Street is for New Orleans like the Haad Rin beach is for Thailand – this is where you get drunk. Shitfaced drunk. And whatever. You buy a tacky t-shirt or some random tank top to bring home. But that's it!
One morning I was out pretty early, and Bourbon Street hadn't even been cleaned after last night's party yet, and yeah, that smell… It was vomit mixed with poo and food gone bad, and some other unpleasant smell I couldn't make out. Yikes…
Apart from Bourbon Street, which is easily avoidable, the French Quarter is amazing.
In the French Quarter, you have the cathedral St Louis, and the graveyards St Louis 1,2,3 is just around the corner. Armstrong Park is also close by if you feel like getting some green grass under your feet. You can find a lot of unique shops for the shopping devil within, great food for the hungry, street entertainment for the restless, and well… What can you not find here would be the question? What's not there you don't want anyway…
As I mentioned in my post about New Orleans, I like all the Mardi Gras necklaces everywhere. Even on business nameplates. While I was watching a jazz train some random guy threw me one. YEY! They are not particularly fancy up close, though, but I like seeing them everywhere, and that the city just lets them be, well I don't know, maybe they've given up… but I like it…
On the Jackson Square by the cathedral St Louis you can find artists and salesmen – but not the random salesmen, but salesmen who are also artists, fortune tellers, or what have you – a lovely collection of people and a super awesome atmosphere.
Even though I could've spent all of my time shopping myself to death in the crystal shops and the witch shops, there are also some houses in the French Quarter to not miss out on. If you're interested in buildings and history, that is.
The first house on my list is – of course – 837 Royal Street. Look at that happy face! What is that now?
Well for nerds who love vampires and witches and everything else supernatural, this is the house Klaus lived in in "The Originals". This is where they lived! OMG! Freaking out! 😛
House number 2:
The second house is without a doubt Marie Laveau's house. Marie Laveau – the voodoo queen. You will find her tomb on St Louis no 1.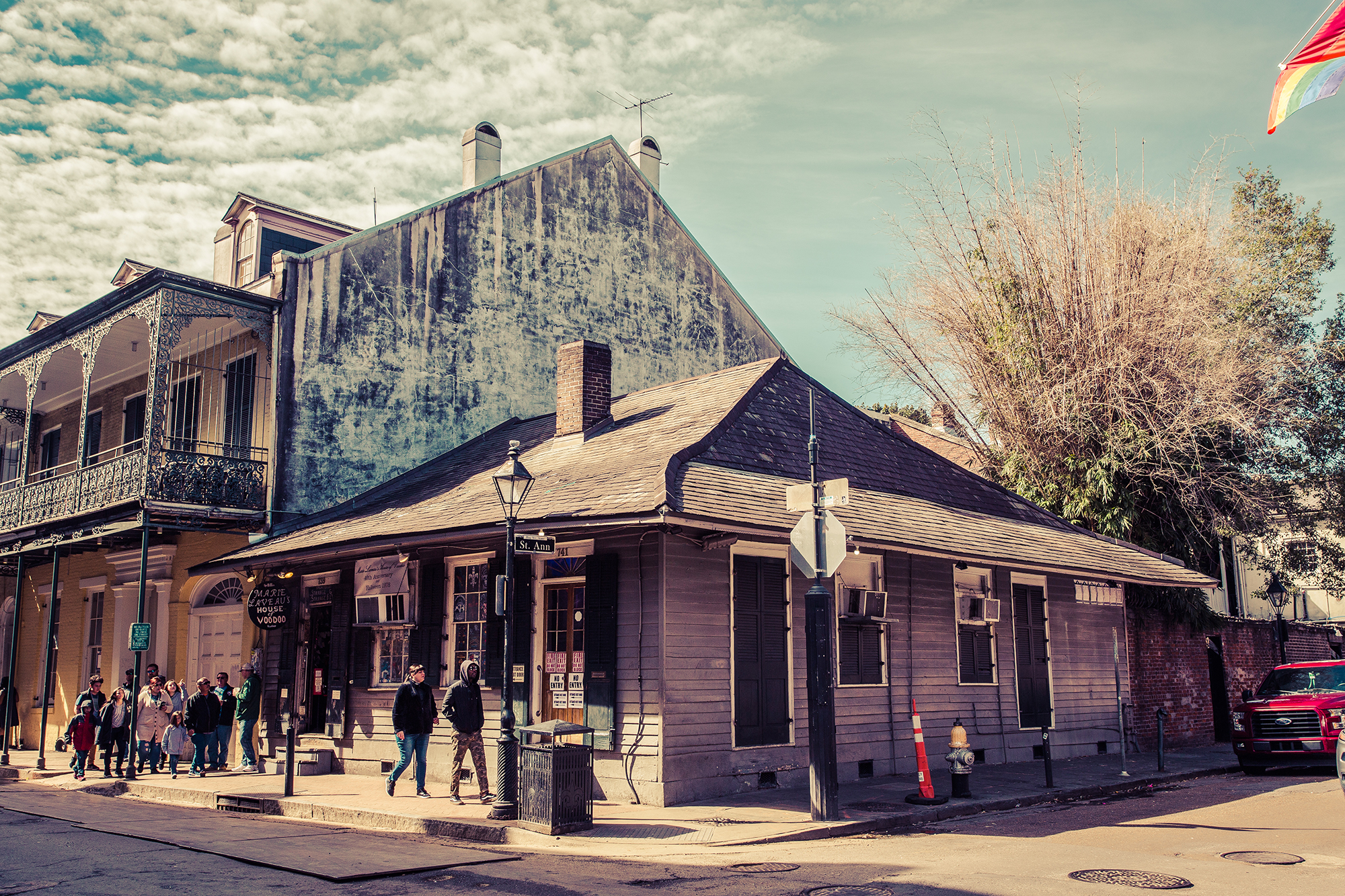 The third house for the house interested people is a house formerly owned by Nicholas Cage, who already has his own tomb in St Louis no 1. However, this house is most famous for its previous owner – the serial killer Marie Delphine Lalaurie. Yes, according to history she was something as rare as a woman AND a serial killer!
According to the story, she tortured her slaves in her own home – this one below. For the sheer pleasure of it, I suppose. Or because she could…
I enjoyed walking around the city during Halloween – American people sure know how to celebrate and how to decorate. They always overdo everything and I love that. Sometimes. 😛 In some way, I must have suffered from some idiocy because of course, one should celebrate Día de Muertos (Day of the Dead) in Mexico, and not hang around Halloween in New Orleans. But, oh, well, another thing to put on the evergrowing bucket list, I suppose – Día de Muertos – Day of the Dead. Next time, Mexico!
Halloween decorations in French Quarter – 2018.
Have you been to New Orleans? Did you visit my favourite neighbourhood? Please leave a comment!