Could Nayarit be what I was searching for? And specifically Riviera Nayarit! Since Tulum was such a huge disappointment I had tried so hard finding that place by the beach my soul yearned for. Would I find it here? Finally?
If one were to believe the internet Nayarit seemed to be full of hidden gems.
So, after the lovely San Cristobal de las Casas I took the flight from Tuxtla Gutierrez to Puerto Vallarta. I was now fully aware  just how long time the buses in Mexico took, and it was neither because they were driving slow nor the roads bad, but it was simply because, as I've already mentioned, it's a huge country. I didn't have much time left, and started to feel stressed.
Getting to Nayarit would've been a very long trip had I chosen buses. In hindsight I wish I had focused more on just one area of Mexico instead of trying to make it to ALL the areas… but well…
You live and you learn…
At first I arrived in Sayulita. Had hoped I could stay here a little bit longer, since I had a small hope inside it would be all I dreamt about. Maybe prolong my stay – I had just booked 6 nights. If I truly enjoyed the place I could always stay.
Sayulita
So Sayulita. It was a pretty nice surf place with soft vibes. The waves were high and it was hard to take a swim at most places. The centre was small and the streets were either sandy or cobblestone. Some people drove around in golf carts (golf carts seem hip in Mexico), and others just strolled around.
Aimlessly.
First impression it seemed this could be my place. No hip boho-chic styled people, but just regular – just like me – walking around on the streets. Or lingering.
But oh, so, that thing happened… that annoying little detail on one of the restaurants in town. They served me the largest burrito I have ever seen. So far so good. But then the check came in and on it – under "service" was written a sum of almost 15%. I had read a few warnings online about this scam but never actually fallen victim to it. Maybe I had been lucky, I don't know.
When I called the waitress asking what this was she answered with a smile "tips".
"No, that's not ok. This here is illegal!" I declared and the girl quickly added it was an option to pay it or not. "Just a suggestion." She smiled nervously again and I sighed – don't you go there with me, regarding justice… I'm a fracking INFJ and a Libra – it's a killer combo!
"It's not fucking optional if you're writing it on the check!"
I was aware I was being harsh and she looked like she was going to cry, which immediately made me feel bad. After all I didn't have to be so rude. But oh well, I've got that one issue when injustice strikes… I get all riled up and have a hard time being both factual and nicely dismissive. It gets unpleasant. I get unpleasant.

In order to keep it civil I just added with a surly "I usually tip", but this time I was so pissed off they are scamming tourists in this way, so no, this time there's no tip! I paid my bill and walked away. Annoyed as frack. Completely unnecessary.
Shake it off, human!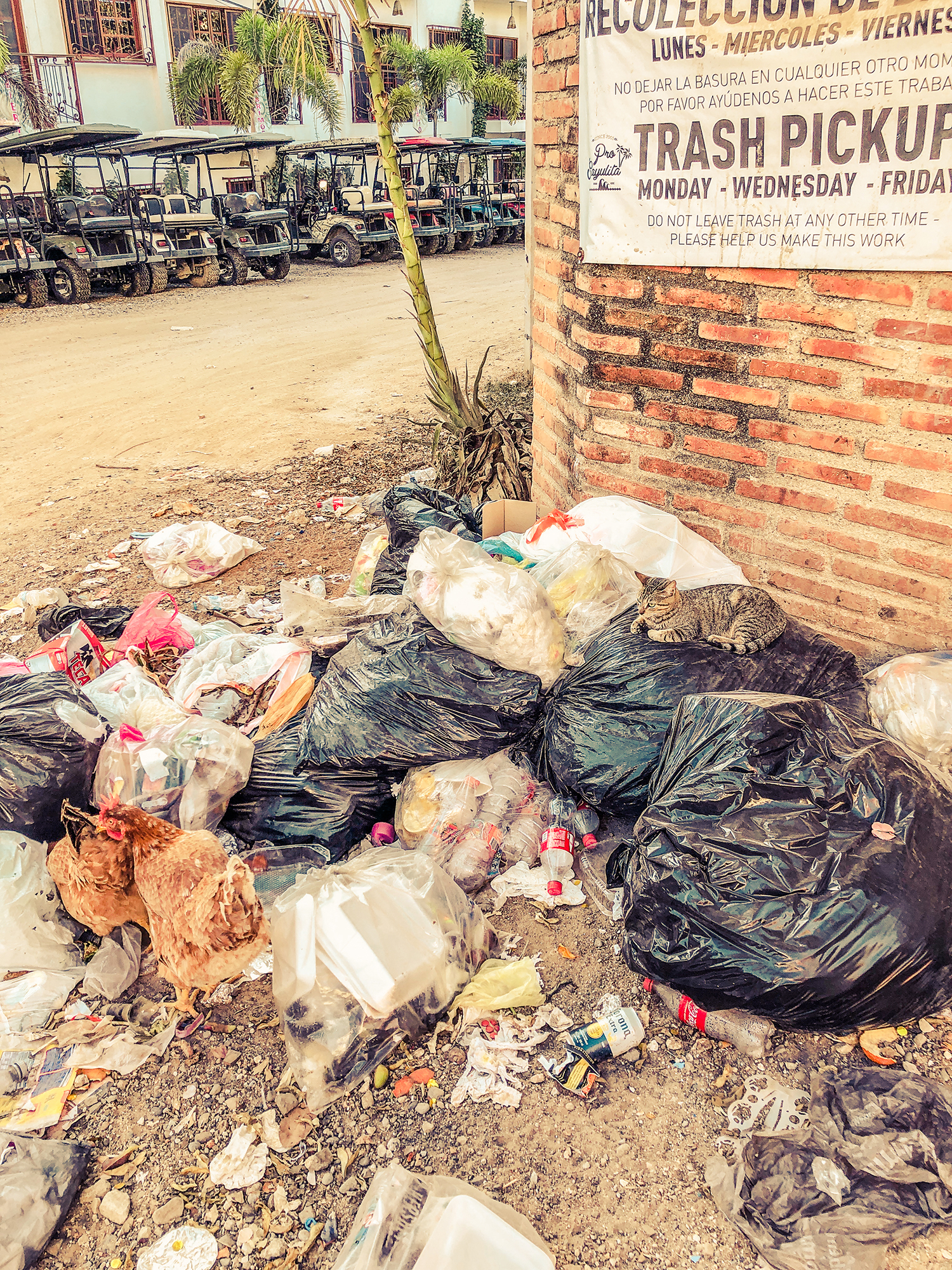 When will I ever learn to let nonessential things just wash off me like water on a goose?
Apart from this tiny blunder, it was relaxing in Sayulita. No stress at all actually. If you're in Nayarit you should absolutely not miss out on Sayulita, even so, I don't know, I didn't find my way home here either…
I was chatting with a young American girl living there with her family. They had moved there some years ago. I felt some kind of envy, I wanted to emigrate too. But I never do… I tried it in 2012. Completely stressed out and a total wreck I headed to Thailand to live there. About a year later I was back home working my way to my death again – steadily.
Who was I without my job? Without my position?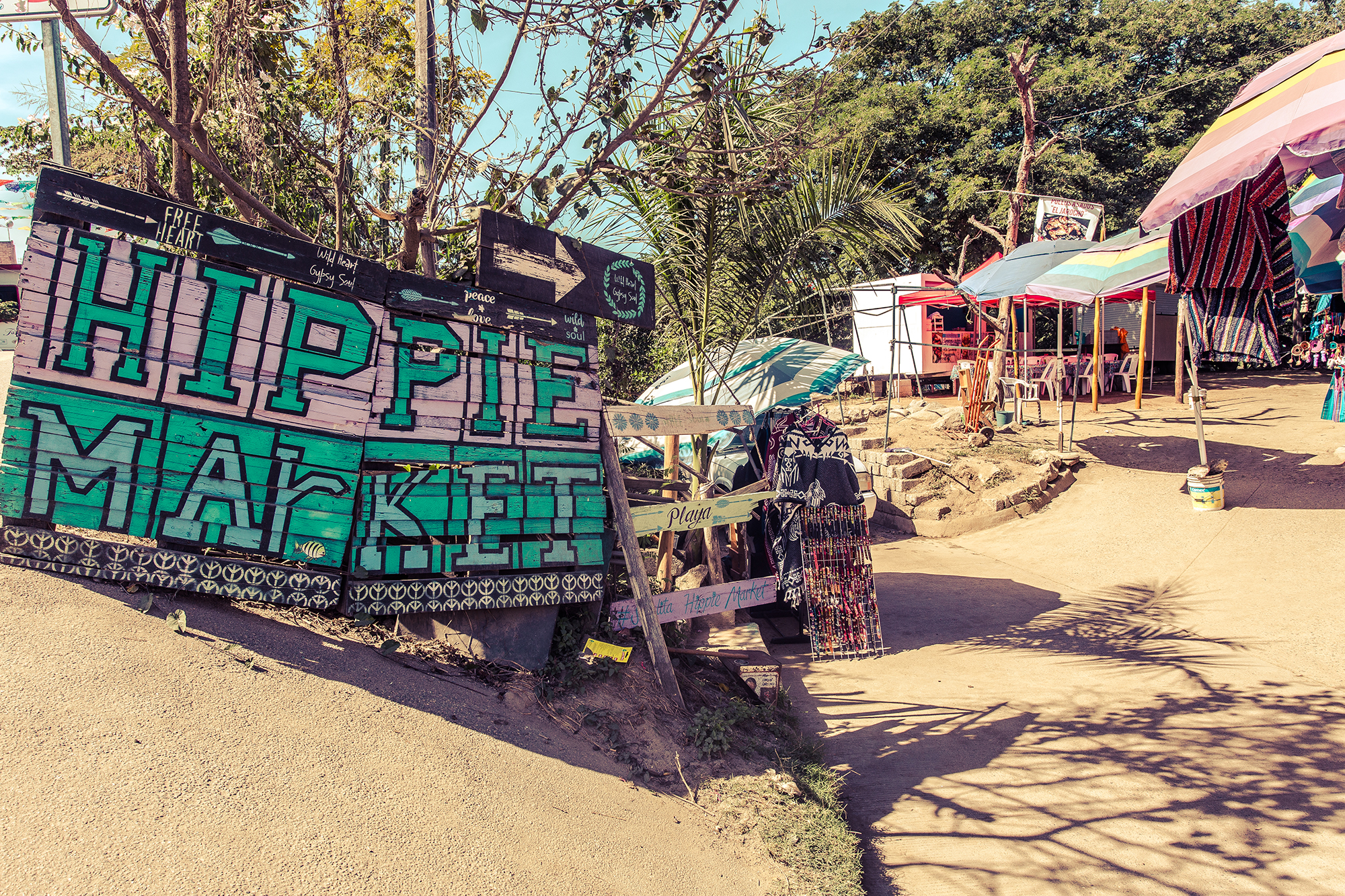 In Sayulita you'll find this "Insta-friendly" street with lots of flags – these flags that Mexico just loves and you can find them everywhere. Taking photos here – well, that's what you do. Just like you stand in line to take the same photo as everyone else takes in Tulum, Cancún, etc…
I don't get today's people, who more than anything wants what everyone else want…
…but here's the street in any case… 😛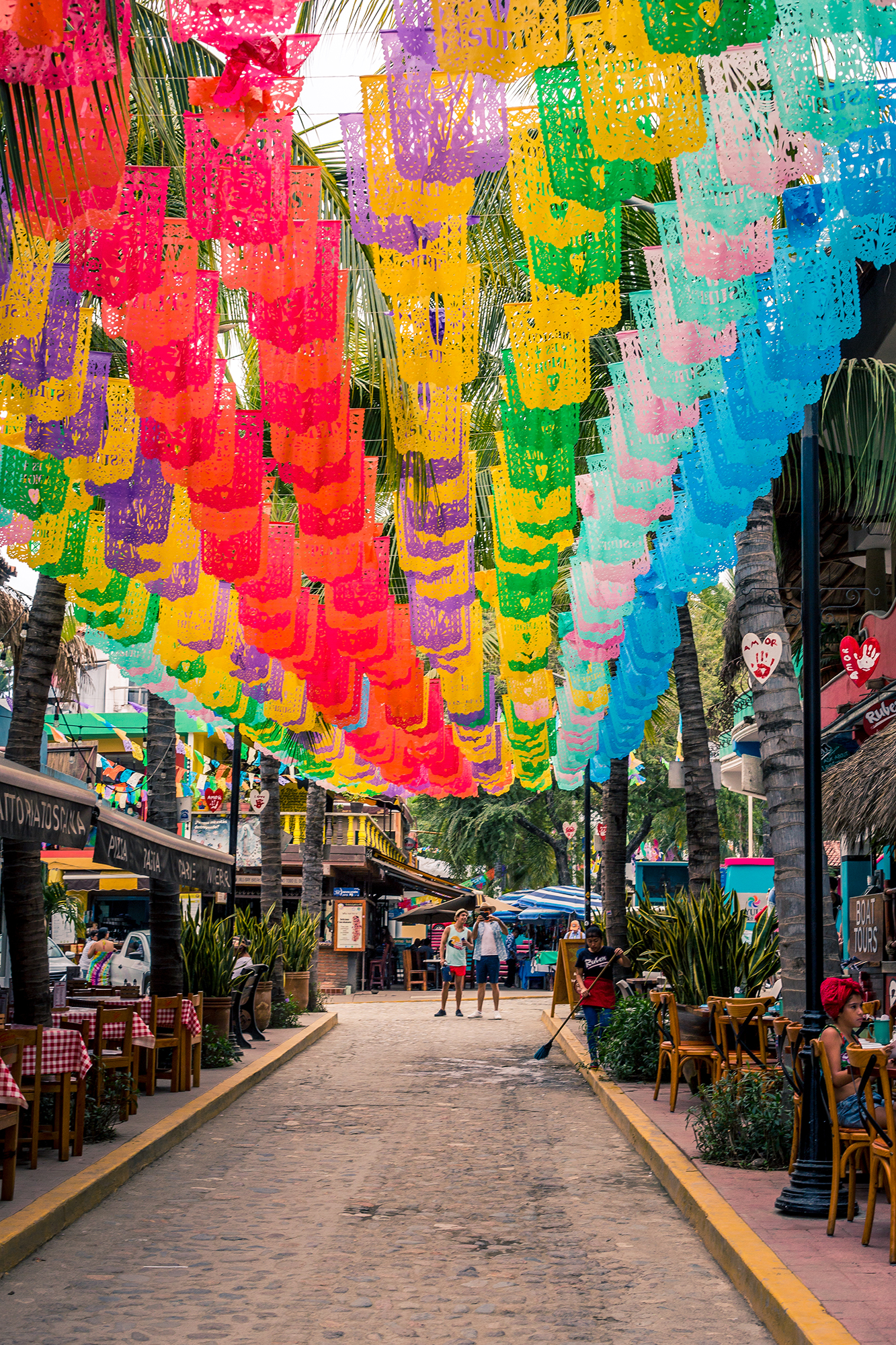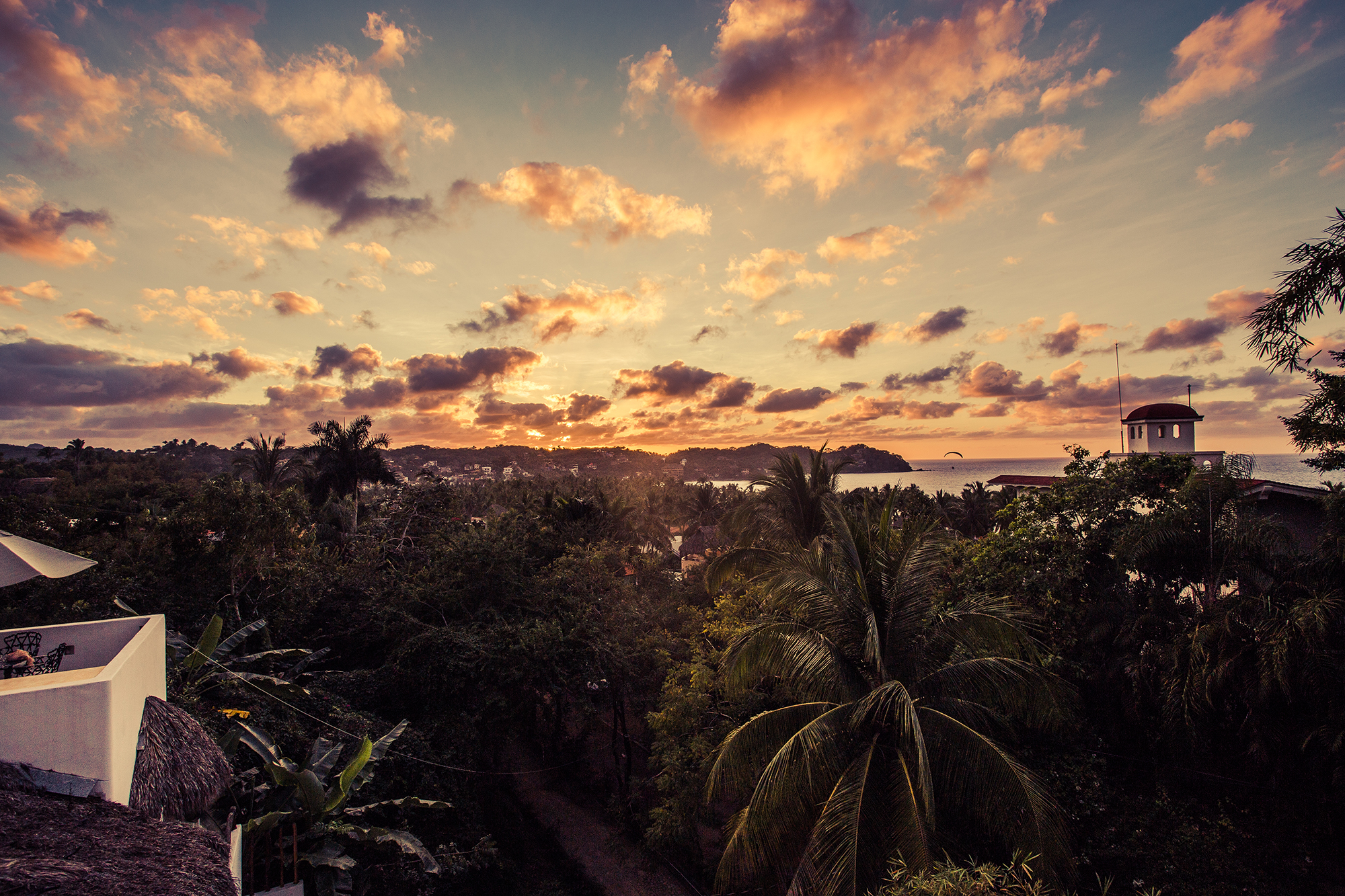 San Pancho / San Fransisco
The village with two names San Pancho, alternatively San Francisco, was, IMO, a lot nicer, softer vibes and the long stretched beaches were also nicer than Sayulita. But that's just a matter of taste. The beach in Sayulita was beautiful too, and rather wide and long as well. And if you passed through the graveyard in Sayulita you could reach a quieter, more secluded beach as well. Not so crowded.
San Pancho became more of a favourite for me than Sayulita though. I heard the clientele here was older, and I noticed. Since I stayed quite far from the centre at both places I didn't notice whether one place was rowdier than the other when it was time for bed. Regardless of the time of day, it was quiet around my accommodations.
In Sayulita, the only thing bothering me was the construction workers next door…
And San Pancho also liked its flags…
In San Pancho, I ran into more friends than I did in Sayulita.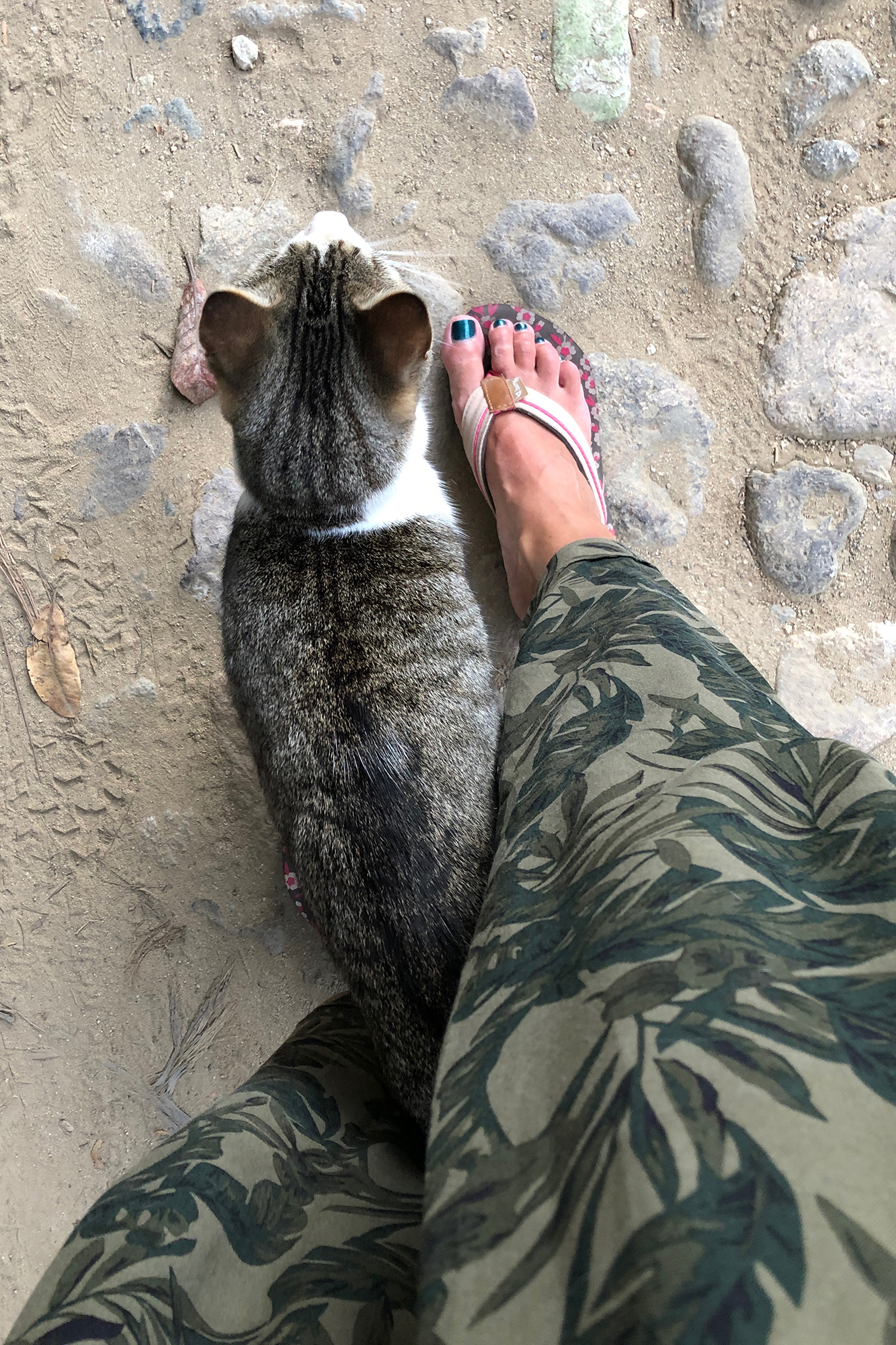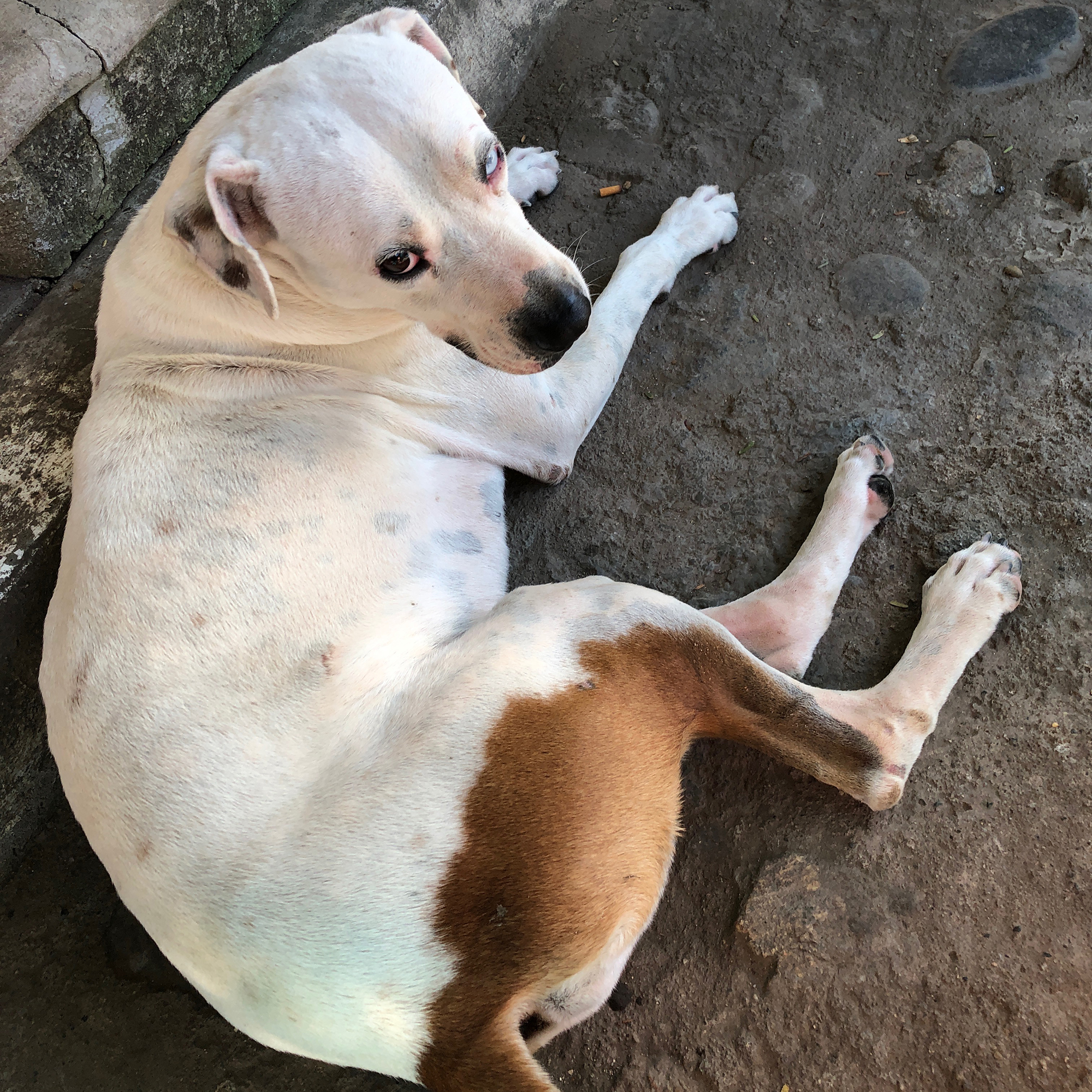 View from my balcony… amazingly beautiful… and quiet… another creature just chilling in the tree…
The only thing worth complaining about – if I have to complain about something – my accommodations were slightly off, both in Sayulita and San Pancho. It was quite a long walk to the centre and after dark, there were no street lamps, and it gets dark really quick after the sun sets. Not like back home in Sweden with those beautiful long bright summer nights. Thus I didn't spend many nights in town after sundown. That didn't really bother me, though, but since the beach was just in the centre too, I will choose to stay more in the centre next time.
Next time? Really? Indeed… 😛
Have you visited Riviera Nayarit? What's your opinion? Please share a comment!